A handheld, single-probe whole body system is making ultrasound technology universally accessible and affordable.
The Butterfly Network (New York, NY, USA) Butterfly iQ is a multi-mode (M-mode, B-mode, and Color Doppler) ultrasound device less than 15 centimeters long and weighing just 313 grams, allowing it to easily fit into a pocket. A rugged anodized aluminum body encases and protects the device, which connects via a USB or lightening cable to a standard handheld Apple iPhone or iPad mobile device. All data is stored and managed on the Butterfly iQ app and in the Butterfly Cloud with 256-bit encryption for tight monitoring and security.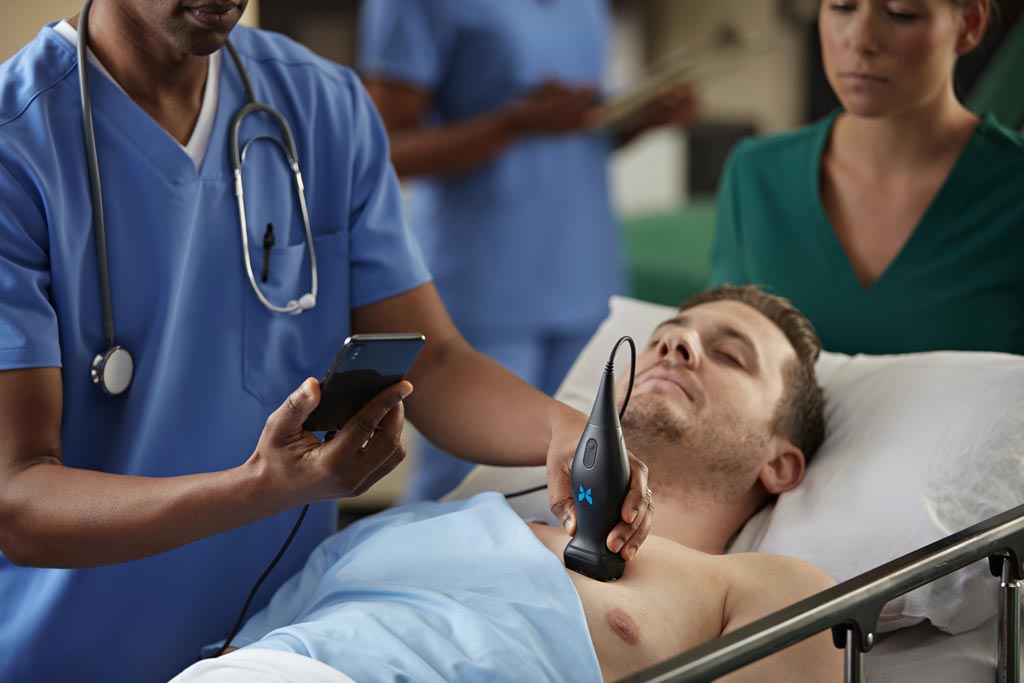 Butterfly IQ is programmed with 18 preset scanning programs, which enable diagnostic ultrasound imaging of peripheral vessels, including for carotid and arterial studies and procedural guidance; and cardiac, abdominal, urology, gynecological; fetal/obstetric, and musculoskeletal use. In addition, Butterfly Network has developed deep learning-based artificial intelligence (AI) applications that are tightly coupled to the hardware and assist clinicians with both image acquisition and interpretation, which will ultimately enable less skilled users to reliably extract life-saving insights from ultrasound.
The Butterfly iQ is powered by capacitive micromachined ultrasonic transducer (CMUT) technology, which replaces the traditional piezoelectric transducer with a single silicon chip that incorporates an array of 9,000 programmable microelectromechanical systems (MEMS) sensors directly overlaid onto an integrated circuit encompassing the electronics backbone of a high performance ultrasound system, allowing it to emulate any type of transducer - linear, curved, or phased. An integrated 400 mAh Lithium Ion battery provides up to two hours of continuous use.
"Just as putting a camera on a semiconductor chip made photography accessible to anyone with a smart phone and putting a computer on a chip enabled the revolution in personal computing before that," said Jonathan Rothberg, founder and chairman of Butterfly Network. "Two thirds of the world's population has no access to medical imaging; that's not ok. Butterfly's Ultrasound-on-a-Chip technology enables a low-cost window into the human body, making high-quality diagnostic imaging accessible to anyone."